Purple Power Vs Simple Green: What Should You Pick?
Simple Green and Purple Power are multifunctional degreasers. Cars can be cleaned and sanitized with them by removing oil, grease, soot, carbon deposits, and tar on the roads. 
Purple Power Vs Simple Green: what's the best? Though they look alike, they aren't the same. Choosing between green and purple car washes can be challenging. On automotive forums, most drivers favor simple green, but not everyone prefers it. Accordingly, removing dirt from your car's body should be done with a car wash that doesn't damage your paint.
Purple Power & Simple Green are both excellent degreasers for non-porous surfaces, but their effects are very different. In case you aren't sure which product to use, the article can help you select the right one for your needs.
Purple Power Vs Simple Green: Comparison Table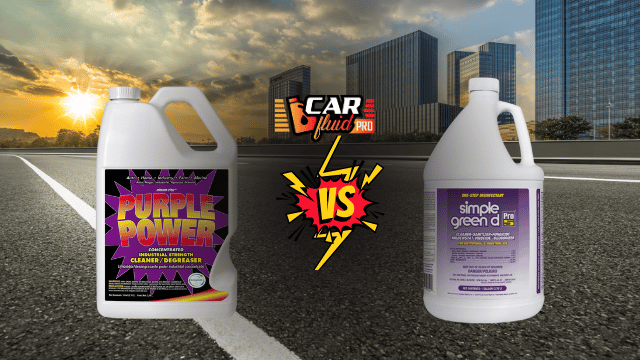 | | |
| --- | --- |
| Purple Power  | Simple Green |
| 4.6 out of 5 stars from customers | 4.4 out of 5 stars from customers |
| Usable on car exteriors, car interiors, car engines, etc. | Engine bay can be used for this purpose |
| Degreasing and cleaning purposes | Degreasing and cleaning purposes |
| An eco-friendly product | An eco-friendly product |
| Formula with high concentrations | Formula with high concentrations |
| Outdoor and indoor use is possible | Best product for cleaning engines |
| The cost is higher than simple green | The cost is lower than purple power |
Purple Power Vs Simple Green: Overall Differences
Many types of industrial degreasers are available, and some can be used for a variety of purposes. The scent of simple green may appeal to some drivers, while others might prefer purple power due to its lower price. Below, you can see them in detail.
Purple Power
Cleaners like Purple Power are purplish-green liquids used for a variety of surfaces. In addition to treating oils, dirt, and grease stains, it can also be used at an industrial scale on a commercial level.
Purple Power Degreaser is suitable for glass, stainless steel, aluminum, chrome, porcelain, and brass. The formula concentrates without phosphates, is non abrasive, and is nonflammable. These organic products are all certified as biodegradable by the Scientific Certification Systems (SCS).
Simple Green
The Simple Green degreaser is an excellent choice when you want to clean your car's surfaces. With it, you can clean all kinds of surfaces. Simple Green doesn't burn, is not flammable, and is stable. 
Furthermore, Simple Green can be used to reduce grease, grime, and oil stains from automatic parts. For example, tools, tires, bumpers, plastics, wheels, camper shells, mats, vinyl tops with aluminum, and carpeting.
Simple Green products aren't more hazardous or toxic than those previously marketed or labeled. Green Seal certification is awarded to Simple Green Naturals.
History
Purple power is an industry-grade, non-chemical cleaner produced by "Aiken Chemical Company" as part of the "Clean-Rite" brand. Solvent-based cleaners and degreasers are not aqueous cleaners. Aqueous cleaners such as Purple Power mix easily with water, unlike solvents.
The Simple Green brand is a cleaning products line manufactured by "Sunshine Makers, Inc." They are best known for Simple Green Multi-Purpose Cleaners. Simple Green first removed tartaric acid from coffee roasting equipment. Later, it was used by automotive & industrial customers for removing stains and grease from vehicles. 
The Similarities
Green and purple car washes use different types of power. Several types of substances are found in these car washes, including a variety of colors. 
First, let's look at their similarities.
Before using Simple Green or Purple Power, you must dilute their highly concentrated formulas. 
Neither cleaner is ineffective when it comes to cleaning oil, grease, carbon deposits, or road tar. 
There are no abrasives or flammable ingredients in these degreasers. 
The result is that they won't leave behind marks or streaks on a variety of surfaces. 
Simple Green and Purple Power are both environmentally friendly.
Applicable Surfaces
In engine bays, Purple Power is suitable for cleaning grease, oil, carbon deposits, soot, and road tar. Since it contains powerful components, it should be tested on surfaces before use on stainless steel and aluminum. Additionally, if Purple Power is used on aluminum & steel, the metal polish will be necessary for removing streaks and haziness.
Wash your car's exterior with Simple Green and a pressure washer. Using this cleaner, car interiors can also be cleaned, including the dashboard, aluminum, plastic parts, and vinyl. In addition, it can remove food stains, lipstick, & many other stains from car seats and mats.
Besides eliminating brake dust and transmission fluids, Simple Green also cleans road grime. However, it isn't as powerful as Purple Power.
Characteristics Of "Purple Power"
Because Purple Power combines value and proven performance, it is the number 1 rated degreaser on the market today. 
Grease, oil, & dirt are penetrated by the concentrated formula.
Provides a barrier between the stain and the surface.
Using Purple Power, even tough stains can be removed in seconds.
An effective degreaser for auto, marine, farm, home, and shop surfaces.
This product is biodegradable, non-flammable, non-abrasive, and free of phosphates.
Due to its biodegradable nature, it can be used on automobiles indoors, outdoors, and even in the pressure washer.
At 2 oz per gallon, Simple Green Pro 5 inhibits mold & mildew growth as well as the odors they cause.
Characteristics Of "Simple Green"
Simple Green cleaners, solvents, and bleaches are safer alternatives to toxic cleaners and solvents. 
There is no better way to protect your children, pets, and the environment than with Simple Green. 
It has a biodegradable and nontoxic formula.
Easily removes dirt, grime, oily soil, and grease without scrubbing hard.
It rinses cleanly without leaving any streaks or smudges behind.
Soils are lifted off hard, nonporous surfaces by strong surfactants.
Reduces indoor air pollution by being fragrance free.
Ability To Work
Purple Power not only works effectively with water but actually helps remove dirt. There is a lot of concentration in the formulas the products offer. The product works by creating a barrier between dirt and the surface you are cleaning when sprayed on. A barrier forms between them, which allows water to pass through and remove the stain.
Simple Green is a US EPA-certified cleaner and degreaser that is effective and environmentally friendly for cleaning vehicles, machinery, and equipment. It provides a 30x better cleaning performance than other formulas. For everyday cleaning, dilute before using or use full strength. It removes grease, dirt, food spills, pet stains, ink, and tough stains both inside and outside. 
Purple Power or Simple Green: What's The Most Effective For Cars?
Purple power vs simple green: which should you pick for your car? While both are fantastic for removing grease from non-porous surfaces, they are very different from one another. When choosing between purple power and simple green auto washes, neither will harm your car's paint.
Some drivers prefer green power for its aroma, while others prefer purple power for its affordability. The majority of drivers recommend simple green car washes in automotive forums; however, not everyone is comfortable with them.
In the end, Simple Green or Purple Power will vary based on personal preferences and budgets.
FAQs
Which is better, Simple Green or Purple Power?
Simple Green is recommended as a complete vehicle cleaner because it is gentle on metallic parts, car paint, and car upholstery. Plus, you can use it indoors as well as outdoors. However, Purple Power is the most effective product for cleaning engines.
What should you not use Purple Power on?
Chrome and copper are not recommended surfaces for Purple Power. During the etching process, chrome will become permanently damaged. It is possible for copper to become tarnished, in which case a copper or brass polish can be used to restore its brightness.
Where should you not use Simple Green?
Simple Green should not be used on leather, suede, opals, unfinished wood, or pearls. You can use Simple Green to clean delicate items like glass, but it's also ideal for cleaning in the automotive industry and on similar surfaces.
Is Purple Power a good cleaner?
In the field of degreasers/cleaners, Purple Power is rated #1 because it delivers both value & proven results. This formula is non-flammable, non-abrasive, and phosphate-free, making it an excellent choice for a wide variety of uses.
How long do you let Purple Power sit?
Downstream, it sat on the surfaces for 10 minutes while not mixing with 5-gallon buckets of water and was not under pressure. To prevent it from drying out, keep it wet.
In the case of very greasy buildup, shake the degreaser first before washing. Repeat rinsing until the grease is removed.
In Summary
A vehicle wash comparison between Purple Power Vs Simple Green is ultimately determined by the consumer's preferences & budget. Both companies offer great products for car washing at a very reasonable price. 
Purple Power and Simple Green are both good choices, depending on what surface you have to clean. Basically, both are excellent choices for an average driver. Nevertheless, simple green tends to be a more popular cleaner among drivers.
Simple Green is recommended for a complete car wash because of its gentleness on metallic parts, car paint, and upholstery. Moreover, it can be used indoors as well as outdoors.